Teeth Whitening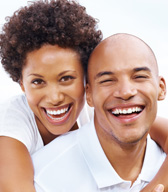 You want a smile that is uniquely yours and leaves a lasting impression. But if your teeth are stained or yellow, it might not be the impression you intended. If your smile doesn't make you feel confident, radiant, and young, talk to Dr. Jackson about teeth whitening.
Why Are My Teeth Yellow?
Missing the pearly whites of your younger years? You're not alone. As many as 50% of Americans are unhappy with the color of their teeth. There are many reasons why our teeth change color over the years. Genetics, aging, food, and drinks all play a role. Some of your favorite things are probably leaving their mark, such as red wine and berries—even those summer snowcones. A good rule of thumb? If it stains your tongue, it's most likely going to stain your teeth.
I Want Whiter Teeth! What Now?
Dramatically change your appearance with a simple procedure—teeth whitening. Our Atlanta general dentistry practice offers Zoom! whitening to recreate your youthful, bright smile. Most patients see results in a single visit, though deeper stains may take more than one session to remove. If you're interested in whitening your teeth, a consultation is all you need to get started. We'll discuss your smile goals, and after an exam, Dr. Jackson will discuss your teeth whitening options.
How Does Teeth Whitening Work?
The teeth whitening process is simple, non-invasive, and takes about an hour. It's a great way to change the look of your smile, for the better, without much time or a big commitment. What can you expect? Here's a step-by-step process:
We'll prep your mouth and protect your lips and gums.
Next, we'll apply the whitening gel to your teeth
The special Zoom! low-heat light will activate the gel.
Relax in the chair for about an hour as the whitening solution lightens teeth.
Once the process is complete, you'll walk out of our office with a whiter smile.
Whiten Your Teeth at Home
Prefer to whiten your teeth in the comfort of your home? Jackson's Dental Center offers Ultradent professional grade at-home teeth whitening kits. We'll provide you with custom-fit trays that fit your teeth snugly. Simply pour the solution into the trays and wear as instructed nightly. You'll notice whiter teeth immediately, with striking results after about two weeks.
Teeth whitening is comfortable, quick, and provides remarkable results. Many patients see their teeth lighten 6-10 shades in just one visit. Best of all, its gentle, which means you don't have to worry about sensitivity after treatment. Contact Jackson's Dental Centers in Atlanta today for your consultation.