General Dentistry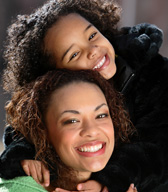 Current research points to a strong connection between oral health and overall health. Healthy teeth not only provide you with a great smile, but could also lessen your risk of several serious health issues, including heart disease, diabetes complications, and even osteoporosis.
At Jackson's Dental Center, we pride ourselves on being the primary dental care provider for people of all ages. As a general dentist, Dr. Jackson provides a wide range of services to keep teeth and gums healthy and strong. It's important to visit our office regularly so that we can help you maintain overall oral health.
An Ounce of Prevention…
Our general dentistry practice centers on prevention. Most adults will need to visit our office every six months, though some patients may need to see us more often. Preventive measures help to deter the development of serious dental problems. Your routine dental visits include:
Series of x-rays
Tooth-by-tooth examination
Periodontal evaluation
Bite Assessment
Oral cancer screening
Professional hygiene
General Dentistry and Preventive Measures
In addition to exams and hygiene, Jackson's Dental Center offers preventive services to maximize your oral health. Patients with deep molar grooves may benefit from sealants designed to keep food and bacteria from invading and causing decay. Fluoride treatments strengthen teeth by attracting essential minerals. And when problems do arise, Dr. Jackson offers restorative procedures to repair damage and restore your vibrant smile.
For twenty years, patients of Jackson's Dental Center have trusted Dr. Jackson with their smiles. Let us show you how beautiful your teeth can be. Contact our Atlanta general dentistry practice for your appointment today.