Montina G. Jackson, DMD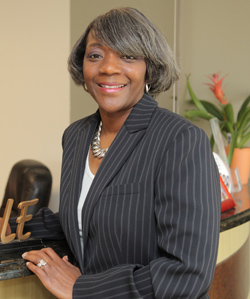 Born in Augusta, Dr. Montina Jackson has remained a Georgia girl her entire life. After graduating cum laude from Spellman College, Dr. Jackson continued her education at the Medical College of Georgia School of Dental Medicine. She received her DMD degree in 1989. Following dental school, Dr. Jackson entered private practice. While in private practice, she had the opportunity to participate in community-based dentistry, helping underserved populations through nursing homes and public health facilities.
In 1991, Dr. Jackson began her own dental practice at Jackson's Dental Center in Southwest Atlanta. Dr. Jackson's husband, Jerome Jackson, Sr., was running a successful dental laboratory at that location. In July of 2010, Jackson's Dental Center expanded to their modern facility at 211 Martin Luther King, Jr. Drive, SW., close to downtown Atlanta.
Dr. Jackson enjoys all phases of adult and children's dentistry. Her greatest satisfaction comes when working with her husband's dental laboratory to help her patients achieve their most comfortable and best-looking smiles.