Restorative Dentistry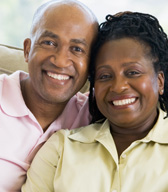 Do you brush and floss every day, and see the dentist regularly? Though these are the most important things you can do for a healthy mouth, occasionally dental pain and problems arise. With 20 years of experience in restorative dentistry, Dr. Jackson can help return the function and beauty of your smile.
A healthy foundation means strong teeth and gums. Dr. Jackson will assess the overall health of your mouth, provide you with a complete diagnosis, and discuss your options for treatment. At Jackson's Dental Center, we strive to offer guidance and the personalized treatment needed make your smile whole and healthy.
Your wellbeing is important to us, and we offer a diverse menu of restorative procedures designed to satisfy the needs of our patients. Dental pain doesn't get better with time, and often worsens. Whether damage occurred through natural wear and tear, or injury or disease have taken a toll, restorative dental procedures return your comfort and your confidence.
We invite you to learn more about our restorative dentistry procedures:
Restorations from Our Onsite Dental Lab
Jackson's Dental Center houses a family owned and operated onsite dental lab. Each custom restoration is designed to match your unique smile. Our highly skilled technicians handcraft your restorations, from single crowns to full dentures.
Don't let pain and discomfort take away your smile. Call today to reserve consultation with Dr. Jackson. The team at our Atlanta restorative dentistry practice looks forward to meeting your needs.