Dentures and Partials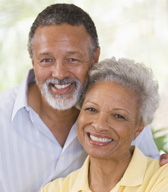 Just because you're getting a little older, doesn't mean you have to compromise when it comes to your smile. Or, if you've lost most or all of your teeth due to accident, injury, or disease, you don't have to go through life without the confidence and comfort teeth provide. Today's dentures and partials are extremely lifelike and are designed to fit your mouth for a full, stress-free smile.
What Can Dentures Correct?
Dentures and partials can correct a number of problems that present with missing teeth. Because your teeth provide support for the structures of your face, lost teeth can cause cheeks to appear gaunt, aging you before your time. And without a full set of teeth, eating your favorite foods can become increasingly difficult. Custom-made dentures and partials can return your confident smile with a number of benefits:
Restore a full appearance to the face by supporting cheeks and lips
Return the ability to chew comfortably
Provide for clearer, easier speech
Replace missing teeth, stopping bone loss
Bring back oral health
The Right Denture for You
After a consultation and thorough exam, Dr. Jackson will provide you with a complete overview of your oral health and discuss your denture options. Partial dentures may be an option if you aren't missing a full arch of teeth. Partial dentures fit like a puzzle with your existing teeth and blend with your existing smile to provide a natural look. For those who are missing most or all of their teeth, full dentures restore the whole smile.
Onsite Dental Lab
Jackson's Dental Center offers an onsite dental lab that's family owned and operated. This means your restoration will be made sooner, and adjustments are easier. In addition, if your denture is in need of repair you don't want to be without it for long. To provide the best service to you, we offer same day denture repair.
Want to find out more about dentures? Call Jackson's Dental Clinic for your appointment today. Atlanta patients trust Dr. Jackson for great dental care with a personal touch.